Carl Stahl I-SYS® Catalogue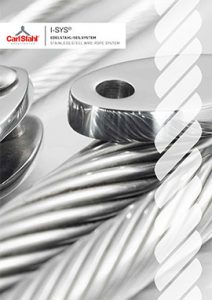 I-SYS® includes components, combinations and individual applications. Above all, I-SYS constitutes an invitation to cooperative action. Ronstan Tensile Architeture can offer advice and plan small and large projects, and inspire architects to find the most aesthetically satisfying solutions and supply statical calculations. The range of end-to-end expertise of our specialists ranges from the first idea, through truly exceptional development, up to manufacture, assembly and subsequent service
Stainless steel cables are turned into universal elements by means of useful connectors, fittings and guides. They have to be strong in order to take up the forces which occur and at the same time they must harmonise with the architecture. A performance which the individual components of I-SYS negotiate with the greatest of ease.
For more information on Carl Stahl I-SYS® systems download a digital copy of the latest catalogue now!
If you would like us to make a presentation at your office or if we can help you develop your concept further, please contact us to discuss your project.