Designing With Cables 101
Designing with Cables 101 is intended to give you a basic understanding of how to get started with selecting the correct Ronstan Cable Assembly for your application. For more details please contact us.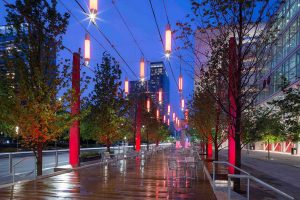 Structural Cables are often an integral part of making a design idea into reality. There are many options available to choose from, and our team strives to make it easy to see the difference in our cable assembly options. Specifying a Ronstan Structural Cable Assembly begins by identifying your application and then using our catalog to guide you through:
Determine required corrosion protection (indoor/outdoor/coastal)
Select Cable End Terminations based on connection to the structure.
Using the tension loads in the design select the cable diameter by matching up the value in the catalog.
Include isolation washers and coated pins if galvanic corrosion due to dissimilar metal contact may occur.
Ronstan Tensile Architecture Sales Engineering Manager for the Eastern US, Matthew Berrelli, recommends starting with the Tension Loads to determine the required cable diameter. Once you know what diameter cable is required for your application you can now focus on the end fittings and materials of construction. As a rule of thumb, large diameter cables (1-1/4″ and above) are going to have to be galvanized both due to working load requirements and for the price. Galvanized cables will be low in cost and are widely available in large diameters, whereas stainless steel is not widely available at large diameters and will cost much more. Find out more about the difference in material here.
For most cable applications the diameter will be less than 1", therefore the stainless steel and galvanized steel options are available. The next step is to determine if the project is indoors or outdoors and if there will be exposure to corrosive elements such as salt air from the ocean. Stainless steel offers the best corrosion resistance. When it comes to fabric architecture it is less likely to ruin the fabric with discoloration. However many cable applications for fabric structures will be PVC coated to ensure the steel does not wear the fabric away once exposed to any wind or other elements. Often fabric structures are seasonal and taken down during the cold months. In these cases the galvanized cables are selected to save on cost and the concern for corrosion is reduced since the time of exposure is limited to only part of the year.
Selecting the end terminations will be more important for designers looking for a certain aesthetic appeal. Fabric structures typically use a toggle end (such as in ACS2) over a fork end, to allow for more articulation in two planes. The toggle ends are much more flexible whereas a fork has only a single plane of rotation such as ACS1. The end fittings you chose will depend on the application. All of the options provide adjustment, however if you are looking for the maximum amount of adjustment, the ACS3 system might be the best, as it is a straight stud with double washer connection. The ACS3 may also be the most cost effective option to get the job done, often used in glass curtain wall applications.
Cable applications can vary but some include suspension bridges, curtain walls and glass structures, sports facilities, zoological enclosures, cable nets, fabric architecture and braces and trusses. For inspiration visit our projects page. Contact us for assistance with your next tensile architecture cable project.
All of our CAD drawings and models are available on our CAD Details site.