Structural Cable Systems Catalogue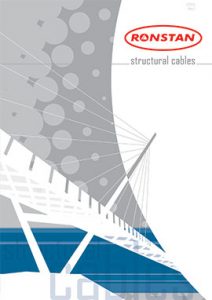 The intriguing capabilities of Ronstan structural cable systems are artfully revealed through their many applications. Our aim with this website and catalogue is to inspire and enthuse, and to provide a simple guide for selecting the right tension cable for your application. In departure from past catalogues, we have highlighted our four most common structural cable systems, and reorganized, such that each can be simply specified with a single number. After determining the required level of corrosion protection (Stainless steel or Galfan) the selection of cable diameter is a simple process of matching your load requirements. If the standard systems don't suit, then you have the full range of Ronstan end fittings and cables detailed further into the catalogue from which to make your selection.
Even if you have never designed with cable before, it need not be a mystery. Ronstan maintains a fully staffed design engineering department to assist clients with concept development, cable and fitting selection, or to tailor a solution to your needs. Often, attaching the cable to your structure, or fastening elements to the cable, is the most difficult consideration. We can assist here as well, before our project management team takes over to ensure the proper coordination from concept to installation, and even commissioning.
For awe-inspiring structural cable systems download a digital copy of the catalogue now!
If you would like us to make a presentation at your office or if we can help you develop your concept further, please contact us to discuss your project.